Download Unix/Linux-Version: dgPDFCombiner.zip
Download standalone Windows-exe, no setup, just runit: dgPDFCombiner.exe
Dr. Web Webdesign Magazin
2008-06-10 - Update
small bugfixes
now allows disabling of bookmark creation
2007-03-08 - Anmeldung
announced at Freeware-Archiv, Freeware-Base and Freeware.de
2007-03-07 - Update
Bookmarks are now also working in PDF-Readers like the Foxit Reader
The console window is now hidden
Some small bugfixes and improvements
2007-01-26 Two Notes
First startup is slow
Bookmarks currently working only in Acrobat Reader. I will try to fix this.
Don't close the console window. Next week I will make an update without a console window.
2007-01-25 Update:
fix for tmp-files, they are now deleted
fix for generated bookmarks file
fix for loading bookmark-files
Hopefully not introducing other bugs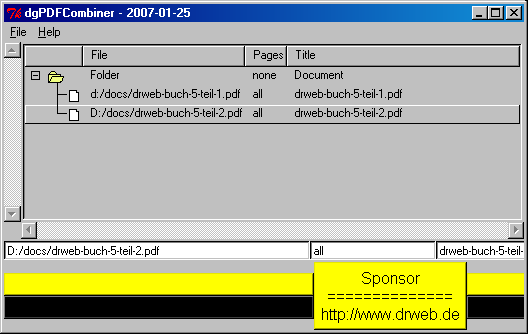 2007-01-23
First release of dgPDFCombiner - a Perl-application to combine PDF-documents and to add bookmark trees to them. The application can be run under windows and UNIX. It can be downloaded from here. Unix users should have installed the Tk and the PDF-Reuse libaries. For windows users there is a exe-file provided in the Zip-file. There is a german article about the usage of dgPDFCombiner at Dr.Web.
Feedback to: dgroth--gmx.de. Please replace -- with @!